Fiddlers Green Mission
We know that when people think intergenerational farm, they probably don't think CBD. Which is exactly why we decided to add the sticky, majestic hemp plant to our fields in 2019. We wanted to create a CBD product that supports a diverse farm ecosystem and that our neighbors can trust, which means transparency from seed to final bottle or jar. After building our robust hemp business from the ground up, we decided to dedicate ourselves to growing heirloom grain and getting it stone-milled into nourishing flour to offer to our community.
Fiddler's Green is named after Chris' grandfather (Ben's great-grandfather) who started care taking the land in 1946. It's an old navy reference, but we like it because it brings a sense of music. 
In music a harmony has parts and those parts create something that is felt not only heard. On our farm we work across generations tending plants and animals that create a supportive ecosystem – bees pollinate the flowers whose roots feed the soil microbes who bring nutrients to our hemp plants, wheat, rye, and medicinal herbs.
Our products too are layered like a melody, using lavender and mint and rose, not only for their glorious scents, but also because of the healing properties they add to the power of CBD. Plants like arnica and comfrey lend nutritive elements that target common wellness concerns. 
You won't find artificial coloring in our gummies (their colors come from plant-based hues of beets) or high-fructose corn syrup. What you will find is CBD extracted from the flowers of organically grown hemp plants at standard therapeutic levels, as well as ethically sourced ingredients like Fair Trade shea butter and organic essential oils in our hand-crafted salves and soaks.

– The Batten
Who are the Farmers of Fiddlers Green Farm?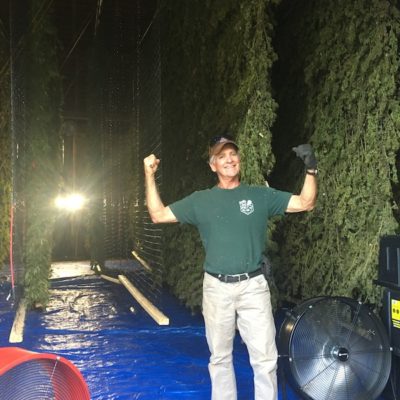 Chris
Partner & Facilities Manager
In his time working outside the farm Chris was trained as a Landscape Architect, where he created landscapes that combined the natural world with the needs of people. Growing organically on Fiddlers Green Farm builds from his past experience and now expands to kindly cultivating plants with processes which sweeten the land and boost people's health.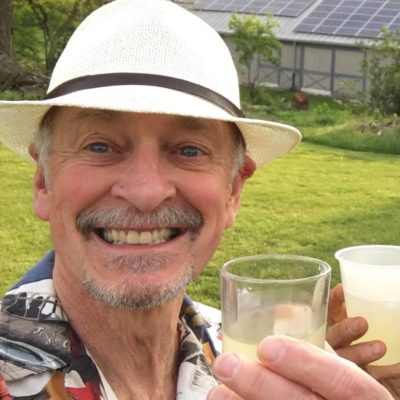 Bruce
Partner
Bruce Thomas Batten (aka Uncle Tom), older sibling to Chris and Mary, and BenJamin's uncle is the only member of the FGF team whose experience on Fiddlers Green Farm began in the 1940s.  Okay, he was a baby then, but since that time he has maintained his relationship with Fiddlers Green's rolling hills and flowing streams, where he caught his first fish, rode his first horse, and fell into his first manure spreader while shoveling out the dairy barn.  A US Navy veteran like his father and grandfather, he now lives in Alaska with spouse Toni London, not far from his sister Mary.  But he remains the only member of the family to have been mauled by a polar bear.  Okay, it was a baby polar bear.  And it was more like a scratch.  But it almost broke the skin, and PTSD from the incident helps explain some of his erratic behavior.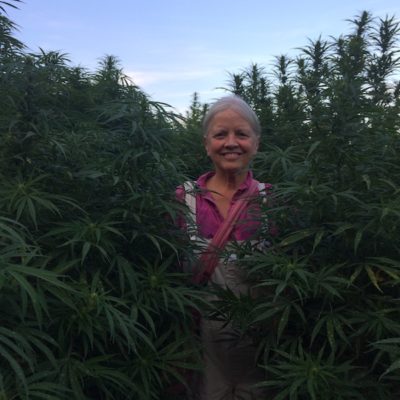 Mary
Partner
Mary Lavinia Batten was named after her grandmother Mary Lavinia Thomas who with husband William Lewin Thomas, settled on the farm in 1947.   In 1967 Mary at age 11 moved to the farm with her parents and brother Chris.  They came from the Washington DC suburbs, but farm life was full of new adventures and wide open spaces.  Their parents quickly filled their new life with joyous gatherings with friends and family and dogs and cats and horses and cows and Esso (the family goat).  We all learned by trial and error how to maintain and love the land and the 150 yr old farmhouse and barn and livestock.  Mary continued to live in the area until 1985, always returning to the farm for celebrations and healing times.  In 1985 Mary followed her brother Bruce and friend Brenda to the frontier of Alaska, falling in love with the adventuresome spirit of the people and the vast wilderness there.   But always, Mary would return to the farm for family events and projects, feeling spiritually renewed by the love of the family and land there.  The dream of a healthy, sustainable farm venture ever brewing, Mary was thrilled when nephew Ben and brother Chris proposed taking on such a glorious goal!  We are all very proud to be a part of the growing endeavors of Fiddlers Green Farm.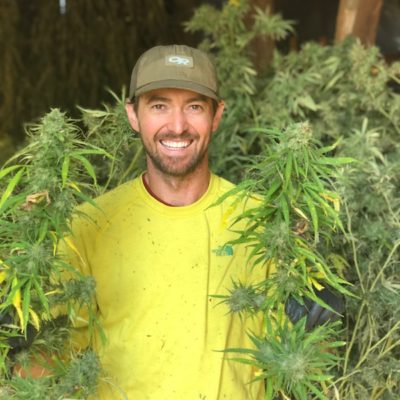 BenJamin
Managing Partner
BenJamin (a while) grew up on Fiddlers Green with bmx bikes and skateboards, not crops and livestock. After venturing west to Colorado to get a Film Studies degree from the University of Colorado at Boulder he returned to Maryland where he helped build the video department at TEKsystems before leaving to care for the family farm and grow the on-farm business. Along with his full-time farming, he has a career in video production and you'll see his talents among the videos shared on the website and social media.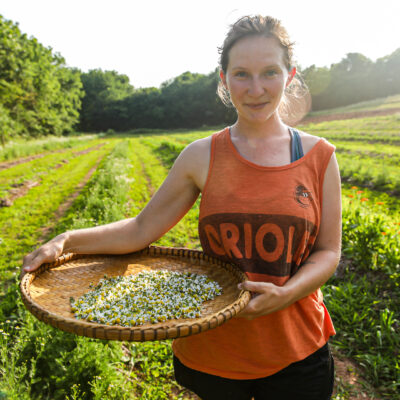 Brynn
General Manager
First Words: A little to the left Role in the family: Plant encyclopedia Role on the farm: General Manager