Fiddlers Green Mission
Fiddlers Green Farm is a small family-owned and operated farm just outside of Taneytown, Maryland that currently grows and sells small-batch, clean, transparent, and environmentally responsible CBD hemp-based products. Along with growing hemp in our certified organic fields, we also grow heirloom wheat and rye that we sell in bulk to local distilleries and breweries.  We grow a small number of medicinal herbs to use in our product formulation and keep bees for their many environmental benefits. We are dedicated to working with mother nature, not against her, to produce the most healthy and beneficial results possible.  
Our goal is to support the vitality of our community. To provide ethical, fair, honest, healthy, and kind action to each other and to the earth that provides for us. 
For us that means:
Supporting local, quality, & organic

Going beyond sustainable practices towards fully restorative agriculture

Witnessing and respecting how the environment works naturally

Being outside in connection to nature every day
We are, along with the land,
Dynamically Alive.
Meet our Family
Owner/managers and siblings Bruce, Chris, and Mary Batten grew up playing in the creeks and fields, riding horses, milking cows, and bailing hay. Now their spouses, children, and grandchildren are essential parts of our family team.
On the farm, Chris and wife Melissa are the on-site Managers who live in the antebellum farmhouse.  Their son and Operations Manager, Benjamin, and his partner Brynn Seaton, Product Manager and Director of Formulation, also reside on the extraordinary property in the magical hobbit dwelling called The Little Round House.  Bruce and Mary divide their time between Fiddlers Green, and their other residences in Alaska.
Who are the Farmers of Fiddlers Green Farm?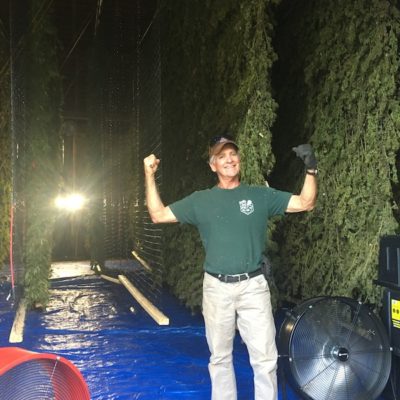 Chris
Partner & Facilities Manager
In his time working outside the farm Chris was trained as a Landscape Architect, where he created landscapes that combined the natural world with the needs of people. Growing organically on Fiddlers Green Farm builds from his past experience and now expands to kindly cultivating plants with processes which sweeten the land and boost people's health.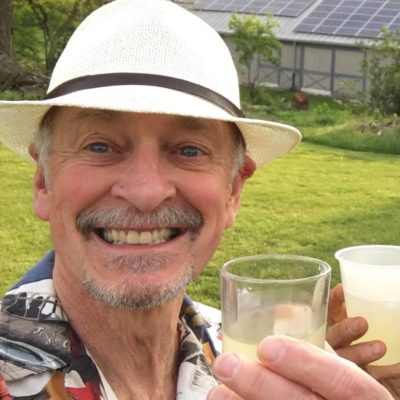 Bruce
Partner
Bruce Thomas Batten (aka Uncle Tom), older sibling to Chris and Mary, and BenJamin's uncle is the only member of the FGF team whose experience on Fiddlers Green Farm began in the 1940s.  Okay, he was a baby then, but since that time he has maintained his relationship with Fiddlers Green's rolling hills and flowing streams, where he caught his first fish, rode his first horse, and fell into his first manure spreader while shoveling out the dairy barn.  A US Navy veteran like his father and grandfather, he now lives in Alaska with spouse Toni London, not far from his sister Mary.  But he remains the only member of the family to have been mauled by a polar bear.  Okay, it was a baby polar bear.  And it was more like a scratch.  But it almost broke the skin, and PTSD from the incident helps explain some of his erratic behavior.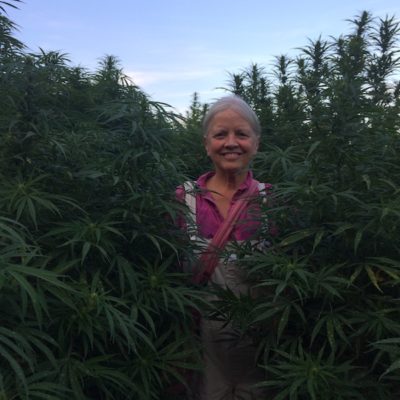 Mary
Partner
Mary Lavinia Batten was named after her grandmother Mary Lavinia Thomas who with husband William Lewin Thomas, settled on the farm in 1947.   In 1967 Mary at age 11 moved to the farm with her parents and brother Chris.  They came from the Washington DC suburbs, but farm life was full of new adventures and wide open spaces.  Their parents quickly filled their new life with joyous gatherings with friends and family and dogs and cats and horses and cows and Esso (the family goat).  We all learned by trial and error how to maintain and love the land and the 150 yr old farmhouse and barn and livestock.  Mary continued to live in the area until 1985, always returning to the farm for celebrations and healing times.  In 1985 Mary followed her brother Bruce and friend Brenda to the frontier of Alaska, falling in love with the adventuresome spirit of the people and the vast wilderness there.   But always, Mary would return to the farm for family events and projects, feeling spiritually renewed by the love of the family and land there.  The dream of a healthy, sustainable farm venture ever brewing, Mary was thrilled when nephew Ben and brother Chris proposed taking on such a glorious goal!  We are all very proud to be a part of the growing endeavors of Fiddlers Green Farm.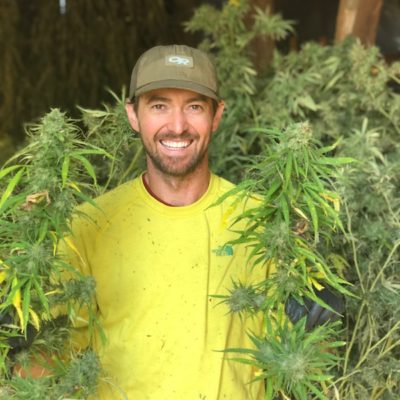 BenJamin
Managing Partner
BenJamin (a while) grew up on Fiddlers Green with bmx bikes and skateboards, not crops and livestock. After venturing west to Colorado to get a Film Studies degree from the University of Colorado at Boulder he returned to Maryland where he helped build the video department at TEKsystems before leaving to care for the family farm and grow the on-farm business. Along with his full-time farming, he has a career in video production and you'll see his talents among the videos shared on the website and social media.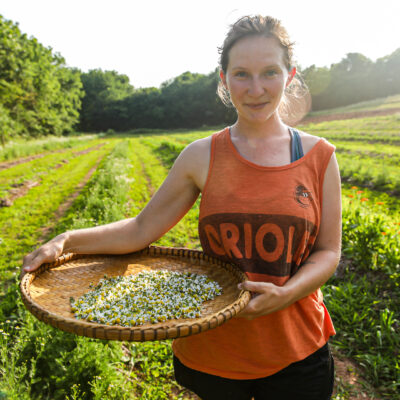 Brynn
General Manager
Growing up in Vermont, Brynn, was exposed to ample natural healing modalities and an economy that heavily supports local small businesses and farms. She is trained as a Functional Nutritional Therapy Practitioner using holistic and ancestral approaches to dietetic and lifestyle counseling. Brynn formulates all the topical products and passionately cultivates the highest quality herbs for these offerings.
Fiddlers Green Historic Past
This location has been a family farm since 1744 and looks much the same as it did 150 years ago during the Civil War when scores of battles large and small raged within short distances from Fiddlers Green Farm. Tens of thousands of soldiers marched through these fields or camped along Pipe Creek, which runs through the property, on their way to destiny at Gettysburg.
Fiddlers Green became our family home in 1946, when our great-great-grandfather William Lewin Thomas, a distinguished and decorated US Navy veteran of World Wars I and II, purchased it and ran it for many years as a dairy farm. After he retired, his son continued farming, and the land then later farmed by his daughter, Mary Thomas 'Tommy' Batten, and her husband, US Navy Capt. (ret.) Hugh N. Batten, a WWII fighter ace.
Mary and Hugh operated Fiddlers Green as a beef cattle operation for many years. Upon their passing, their children, Bruce, Chris, and Mary became the owners. The siblings transitioned FGF to producing a variety of agricultural products while farming with sustainable and organic practices.
Our Fiddlers Green Family enjoys sharing this magical place with people who love history, this country's agrarian roots, and just being outside.  Contact us if you'd like to visit, or come to stay at, Vista Country Home, our spectacular vacation rental. Or if you prefer roughing it in a camp setting check out our campsite on HipCamp.